US Olympian Kim Glass posts video of assault on homeless man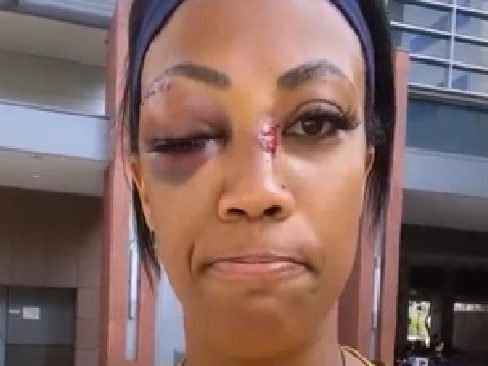 Content of the article
A US Olympic silver medalist in volleyball has posted a video after she was attacked by a homeless man in Los Angeles.
Content of the article
Kim Glass, 37, took to her Instagram Stories to show the injuries she suffered when she was nearly blinded by a homeless man who threw a metal pipe at her, fracturing her cheek.
Content of the article
"I have several broken bones," she said of her injuries, which she said would blind her in one eye, but she was able to joke about the attack, saying, "Yeah, I look like to AND"
An emotional Glass recounted how she had just had lunch with a friend when they were approached by a man who "just ran" and "had something in his hand".
She recalled, "And he just looked at me with pretty hateful eyes."
Glass warned her friend that she thought something was "wrong" with him and that he was going to hit the car when "before I knew it, a big bolt-shaped metal pipe hit me. hit".
The retired athlete, who helped Team USA win silver at the 2008 Beijing Olympics, and former Sports Illustrated Swimsuit model says 'it happened so fast' and that the man "threw" the pipe from the street, causing it to fall.
Content of the article
Glass said witnesses and bystanders held the man down until police arrived.
"Guys be safe out there…there are a lot of mentally ill people on these streets right now," she said in a second video.
"You shouldn't be afraid when you walk, but it's true. Guys, be careful, OK," adding that it "could have been a lot worse."
Glass's attack comes as activists call for woke Los Angeles District Attorney George Gascon to be recalled for his lenient stance on crime.
Shea Sanna, the assistant district attorney, slammed his boss to Fox News, accusing Gascon of being a 'crime champ', who encourages perpetrators to 'commit more crimes' and has no respect for 'safety. public".