Olympian artist Gao Min paints happy fish, depicting athletes from five continents coming together for the Olympics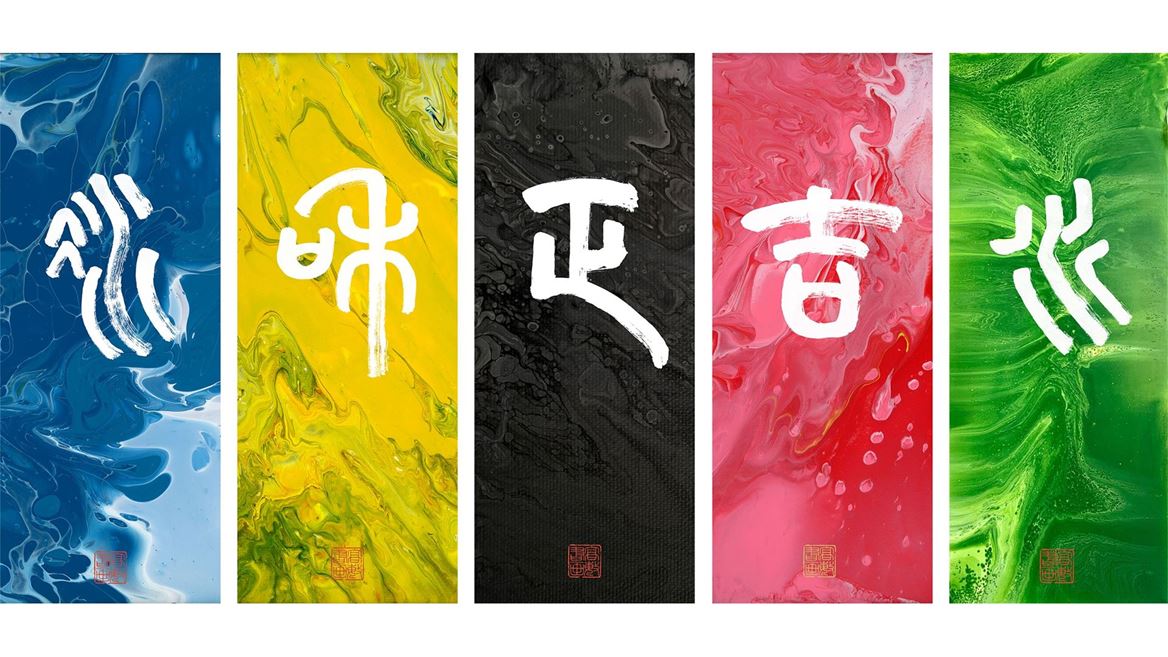 February 12, 2022 – Olympian diver Gao Min represents "fish" in China. Or to be precise – a mermaid. Thanks to her two gold medals in the 3m springboard at Seoul 1988 and Barcelona 1992, as well as a plethora of World, Asian and International gold medals, Gao is an athlete of almost legendary status in China.
Fish in China is a surplus, to always have plenty of it," Gao says with a smile. "Because of my diving, people in my country call me a mermaid."
Gao is one of seven artistically talented former Olympians who have been selected for the Beijing 2022 Olympian Artist-in-Residence Programas a member of Olympic Agora cultural project.
Asked about the parallels between sport and art, Gao says: "I think diving itself is an art, an art in the air, an art of the body defying its limits. Today I write and paint, which is also art, an art of using actions to reflect my thoughts.
"When I was 14, I first heard about the Olympic Games on television, and participating in the Games became my dream. I stood on the Olympic podium at the age of 18 and I defended my title four years later, which is the greatest pride of my life. After retirement, whatever difficulties I encounter, I can overcome them just by remembering the efforts I made to realize the dream of being an Olympic champion. The Olympic experience gives me the courage, strength, confidence and honor to face the challenges of my life.
After retiring from competition, Gao coached in Edmonton, Canada for many years, helping to train many national team divers in Canada. She returned to China in 2005 and has been involved in charity since then. Gao is the Founder and Chairman of the Star Power Charity Foundation in Beijing, and is also the first Ambassador of Compact2025, a partnership that develops and disseminates evidence-based advice to politicians and other decision makers aiming to end hunger and malnutrition.
Between all of this, she also took painting seriously. About five years ago, she decided she wanted to study calligraphy and Chinese brush painting, but because she was so well known, she had to take private lessons with a well-known painter in China. The results began to appear almost immediately, as his paintings began to sell and collectors began paying a premium for them.
"The paintings are sold for charity," Gao explains. "My painting sales have supported charities that care for children left behind in villages. China has seen tremendous transformations over the past 40 years, and children of farmers who have left the been left behind.
Proceeds from Gao's art also go to support her Star Power Charity Foundation, which helps retired athletes and coaches.
In 2018, Gao brought together more than 130 Olympic champions to establish this foundation in Beijing.
"We go to schools across the country to spread the core concept of the foundation: Be your own champion," says Gao. "We tell teenagers that champions grow from failure, and we tell how we tried and failed countless times before becoming champions. I hope teenagers will enjoy sports and physical education, because true sportsmanship comes from failure, which takes more courage than winning. Being our own champion should be our ultimate goal. And sport cultivates our attitude to failure and gives us the courage to start over.
This is the very attitude that Gao also applied to her art, practicing for days and days until she perfected a particular trait.
"Once she's decided on something, she becomes very committed," her manager reveals. "That's exactly why she succeeds in whatever she chooses to do."
Experts say his calligraphy strokes convey conviction and strength.
Gao's three canvases for the Olympic Agora are calligraphic interpretations of Pierre de Coubertin's "Ode to Sport", the five colors of the Olympic rings and, of course, a canvas titled "Happy Fish for a Shared Future", which represents athletes from five continents coming together for the Summer and Winter Olympics. This painting also celebrates Beijing as the only host city in the world to host both the Summer and Winter Games.
All of Gao's works, as well as those of the six other Olympian artists in residence, can be viewed in the Olympic Agora exhibition here.
Launched by the Olympic Foundation for Culture and Heritage (OFCH) at PyeongChang 2018, the Olympian Artist-in-Residence program celebrates the connection between sport and culture by providing athletes with artistic interests the opportunity to produce and present new works during and between editions of the Olympic Games. Games.
Olympian Artists in Residence at the Beijing 2022 Olympic Agora