97 athletes named to 2022 USA Diving High Performance Team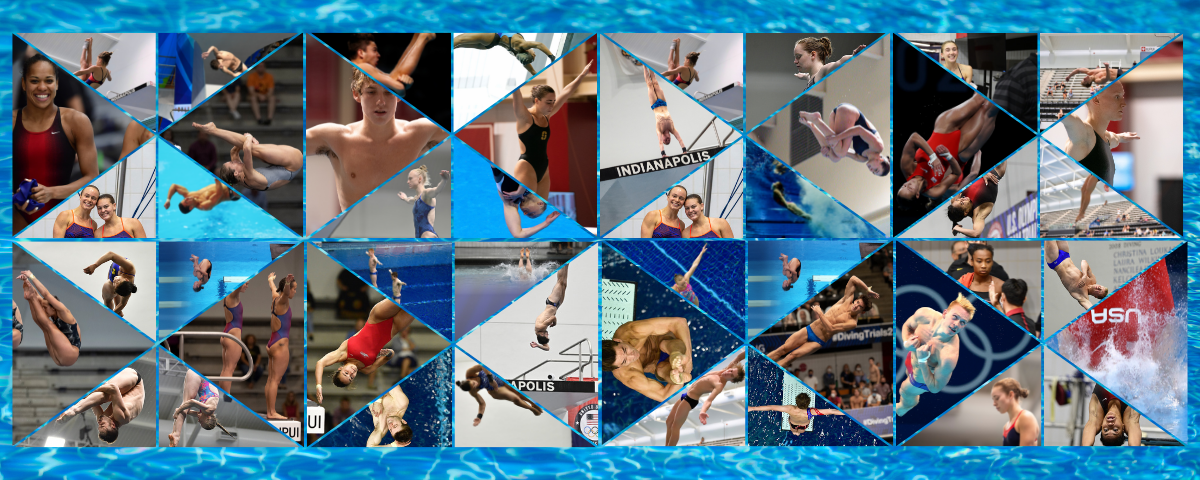 Courtesy of: USA Diving
USA Diving has announced the 97 divers who will make up the 2022 USA Diving High Performance Team. Twenty divers have been named to the Tier 1 High Performance Team, and ten additional divers have qualified for the Tier 2 Team. The 2022 High Performance Team is complemented by 31 Tier Three Senior athletes and 36 Tier Three Junior athletes.
Tier 1 team includes ten members of the 2020 U.S. Olympic Team, including Olympic medalists André Capobianco (Holly Springs, NC/Indiana University), Michael Hixon (Amherst, MA/unattached), Jessica Parratto (Dover, NH, Johansen Diving Academy), Delaney Schnell (Tucson, Arizona/University of Arizona) and Krista Palmer (Gardnerville Diving Club, Nevada/Nevada). Additionally, five members of the 2021 FINA Diving World Cup team that represented the United States in Tokyo, Japan were also named to the Tier 1 squad, including the 3 meters, Sarah Bacon (Indianapolis, Ind./Minnesota).
The tier two team includes a member of the 2021 FINA World Cup squad, Samantha Pickens (Murrysville, PA/COM Aquatics). It includes the 2016 US Olympic medalist, Steele Johnson (Carmel, Ind./Purdue Diving), and 2016 Olympian, Amy Cozad Magana (Indianapolis, Ind./Indiana International Diving School).
USA Diving looks optimistically to the future with a total of 40 junior athletes added to the team's High Performance Squad, many of whom have earned their spots through strong performances at the 2021 Junior Pan Am Championships and Junior Pan Am Games. 2021 as well as athletes who have been selected to compete at the 2021 FINA World Championships in Kyiv, Ukraine. Young stars Joshua Hedberg (Noblesville, Ind./Indiana International School of Diving) and Daryn Wright (Plainfield, Ind./Indiana International School of Diving) earned Tier 1 team spots along with Carson Tyler (Moultrie, Ga ./Indiana University) and Quinn Henninger (Denver, Colo./Indiana University), both freshmen at Indiana University, earned Tier Two team designations alongside Duke rookie Margo O'Meara (St. Louis, Mo./Duke University).
The High Performance Team is comprised of divers who exhibit the most potential, skill and determination to become future members of the US Olympic Team. Being a member of a high performance team does not automatically qualify for international competitions or the Olympics. These opportunities must be earned through clearly defined selection processes that are open to all diving athletes in the United States. A High Performance Team review is conducted periodically, and divers may be removed or added to the team as a result of these reviews, for specific qualification criteria and program guidelines please login to your portal of members.
"2021 has been a great year for the athletes of USA Diving, and the fruits of their labor are exemplified by our ability to name nearly 100 athletes to our high performance team," said Dan Laak, director of USA Diving's high performance, "From our most recent Olympians to our up-and-coming athletes who have competed in the Junior Pan Am Championships and Games, these athletes represent USA Diving's continued success and promise a bright future. I look forward to seeing what our athletes will accomplish in 2022 and beyond"
Each level is listed alphabetically, with the diver's hometown and club/university provided. Please note that athletes may be graduates of their respective universities.
Level 1 :
Sarah Bacon (Indianapolis, Indiana/University of Minnesota)
Andrew Capobianco (Holly Springs, NC/Indiana University)*
Zach Cooper (Greenwood, Ind./University of Miami)
Tyler Downs (Ballwin, MO/ Purdue University) *
Greg Duncan (Oakton, Virginia/Purdue University)
Max Flory (Fairfax, Virginia/ University of Miami)
Alison Gibson (Austin, TX/Longhorn Aquatics) *
Tarrin Gilliland (Liberty Hill, TX/Indiana University)
Kristen Hayden (Hillsborough, NJ/Indiana University)
Josh Hedberg (Noblesville, Ind./Indiana International Diving School)
Hailey Hernandez (Southlake, TX/ University of Texas) *
Michael Hixon (Amherst, Mass./Independent) *
Abi Knapton (Omaha, Neb./Rutgers University)
Brandon Loschiavo (Huntington Beach, Calif./Purdue Diving)*
Maggie Merriman (Orlando, FL/Purdue University)
Krysta Palmer (Gardnerville, Nevada / Nevada Diving Club) *
Jessica Parratto (Dover, NH/Johansen Diving Academy)*
Delaney Schnell (Tucson, Arizona/ University of Arizona) *
Daryn Wright (Plainfield, Ind./Indiana International Diving School)
Katrina Young (Seattle, Wash. / Trojan Diving Club) *
Level 2:
Amy Cozad Magaña (Indianapolis, Ind./ Indiana International School of Diving) *
Quentin Henninger (Denver, Colorado/Indiana University)
Steele Johnson (Carmel, Indiana/ Purdue Diving) *
Margo O'Meara (St. Louis, MO/Duke University)
Samantha Pickens (Murrysville, PA/COM Aquatics)
Jordan Rzepka (Solon, Ohio./Purdue University)
Brooke Schultz (Fayetteville, Ark./University of South Carolina)
Carolina Sculti (Rye, NY/Stanford University)
Jacob Siler (Knoxville, Tenn./ Ohio State University)
Carson Tyler (Moultrie, Ga./Indiana University)
Level 3 seniors:
Nike Agunbiade (Pacifica, CA/ University of Southern California)
Chloe Bishop (Jupiter, Florida/ University of Texas)
Manuel Borowski (Southlake, TX/ University of Texas)
Janie Boyle (Orange, Ohio./ University of Texas)
Lauren Burch (The Woodlands, TX/Stanford University)
Charlye Campbell (Midland, TX/Alpha Diving Club)
Clayton Chaplin (Highlands Ranch, Colorado/ Ohio State University)
Mackenzie Crawford (Milan, Michigan/ Ohio State University)
Noah Duperre (New Albany, Ohio/ University of Texas)
Jacob Fielding (Los Angeles, CA/Ohio State University)
Anne Fowler (Burke, Virginia/Indiana University)
Emily Grund (Keller, TX/University of North Carolina)
Andrew Harness (Villa Park, CA/ University of Texas)
Markie Hopkins (Mission Viejo, CA/ Northwestern University)
Madison Huitt (Wexford, PA/ University of Southern California)
Kyndal Knight (Stanley, NC/University of Kentucky)
Jack Matthews (Powell, Ohio / ACES Diving Club)
Evan Moretti (Scarsdale, New York/New York Dive Club)
Joslyn Oakley (Mooresville, NC / Carolina Diving Academy)
Bridget O'Neil (Southlake, TX/University of Texas)
Jack Ryan (Denver, CO/ Stanford University)
Jordan Skilken (Columbus, Ohio/ University of Texas)
Kelly Straub (Omaha, Neb./ University of Notre Dame)
Savannah Stocker (Lake Forest, CA / University of Southern California)
Savana Trueb (Colorado Springs, CO/Rutgers University)
Sophie Verzyl (Columbia, SC/ University of South Carolina)
Joe Victor (Orchard Park, NY/Princeton University)
Ali Watson (Fort Lauderdale, Florida/Duke University)
Maxwell Weinrich (Brookeville, Maryland/Dominion Dive Club)
Laura Wilkinson (The Woodlands, TX / Woodlands Diving Academy) *
Lyle Yost (Shaker Heights, Ohio / Ohio State University)
Junior Level 3:
Misha Andriyuk (San Jose, CA / Stanford Diving Club)
Kaylee Bishop (Boca Raton, FL / Coral Springs Diving)
Matthew Brisson (Boynton Beach, Florida / Coral Springs Diving)
Barbara Chen (San Dimas, CA/Arrow Dive Club)
Jacqueline Chen (San Dimas, CA/Arrow Dive Club)
Leyton Dean (Noblesville, Indiana/RipFest)
Gage DuBois (Phoenix, Arizona / Phoenix Dive Club)
Cristiano Garcia (Springfield, Va./Alexandria Dive Club)
Bennett Greene (Knoxville, TN/Tennessee Aquatics Diving)
Nicholas Harris (West Chester, PA/TNT Diving)
Katerina Hoffman (Whitehouse Station, NJ/ Knight Diving Club)
Delaney Hsu (Bethesda, Maryland/Alliance Diving Club)
Kayla Jensen (The Woodlands, TX / Woodlands Diving Academy)
Jacob Jones (The Woodlands, Texas / Woodlands Diving Academy)
Carlos Lujan (Orlando, Florida/Orlando Dive Academy)
Jaiden Lynch (Newport Beach, CA/Mission Viejo Nadadores)
Maxwell Miller (The Woodlands, Texas / Woodland Diving Academy)
Emilie Moore (Boca Raton, Florida/ Coral Springs Diving)
ElliReese Niday (Moultrie, GA/Moss Farms Diving)
Mia Prusiecki (Greenwood, Ind./Indiana International Diving School)
Juliet Radich (Fort Lauderdale, Florida/Coral Springs Diving)
Amelia Rinehart (Fort Wayne, Ind./Indiana International School of Diving)
Mikolas Schwickert (Scottsdale, Ariz./ Clavadistas del Sol)
Joshua Sollenberger (Fort Wayne, Ind./ Indiana International School of Diving)
Kaden Springfield (Powell, Ohio/ACES Diving)
Bailee Sturgill (Hilliard, Ohio / RipFest)
Max Van Stone (Chesterfield, MO/Clayton Diving Alliance)
Evelyn Wang (Arcadia, CA/ McCormick Divers)
Jacob Welsh (Atherton, CA/Mission Viejo Nadadores)
Zachary Welsh (Atherton, CA/Mission Viejo Nadadores)
Avaleigh Westfall (Ann Arbor, Michigan / Sunshine Dive Club)
Tyler Wills (Carmel, Indiana/RipFest)
Lily Witte (Dexter, Michigan/ Wolverine Diving)
Kamryn Wong (Flower Mound, Texas / GC Diving)
Avery Worobel (Boston, Mass/Woodland Diving Academy)
Mallory Worobel (Boston, Mass/Woodland Diving Academy)
*Olympian